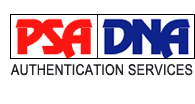 T.J.'s Collectibles, Inc. can handle ALL YOUR AUTHENTICATION Needs! From the smallest to the largest collection of autographs, trophies, rings etc. Please contact TJ Kaye in confidence! 561-756-7500 or Email him tjmick07@aol.com
CLICK HERE TO BE REDIRECTED TO THE PSA/DNA RING, TROPHY, & AWARD AUTHENTICATION SERVICE PAGE !
We can have our ''Team Of Experts'' From PSA/DNA come to your home, office or your choice of locations and authenticate your whole collection! Contact us for details - tjmick07@aol.com
Thank you!